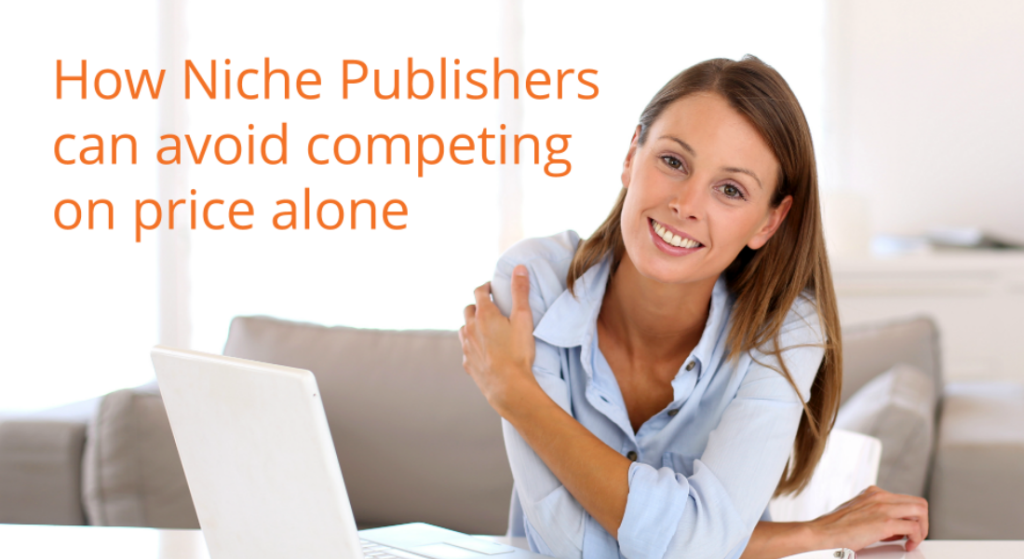 2015-02-27 in Learning
How Niche Publishers can avoid competing on price alone
Niche Publishers: Take it from someone that has managed SMB advertising budgets – there is a way for you to avoid competing on price when selling advertising.
Integrated Packaging Value
I recently read an interview with an ad sales expert who stated that the one big mistake to avoid with integrated packaging is to show individual pricing or allowing the advertiser to pick and choose. The reader was told that the Integrated bundled packages work best if they are bought in their entirety.
The ad sales expert had a some good advice on bringing value by understanding the goals of the advertiser and justifying pricing with impressions, but that's where it stopped. Like many ad sales reps, who often lack the insight of a business minded publisher, in their world, they have an inventory to sell and that's it. The needs of the advertiser comes second.
If you run a Niche Publication, please don't stop at that. Read this post, get inspired and innovate your business!
B2B Advertising to a Select Audience
When I was the VP of Sales & Marketing at UpWind Solutions, Inc., the world's largest independent provider of wind turbine services, my prime target customers were a limited crowd. I sold aftermarket services to wind farm owners and more than 80% of the installed US wind turbine capacity is owned by not more than 20 (twenty!) owners. In other words, if I were able to make those 20 companies my customers, I would seize a pretty good chunk of the market. At each of these companies there was an average of 10 decision makers and influencers, totaling approximately 200 in the entire nation, that I needed to reach in order to grow the company.
UpWind's sales reps were focused to work with these customers, but as anyone that has sold in an industrial B2B setting in the past 10 years can attest to, relationships matter less these days and it's increasingly harder to get a meeting with the decision makers and the right influencers. Working as a sales rep, you need support from marketing in terms of disruptive educational insight that is valuable to your customers. Without it, you have to rely on your charm and low pricing.
My predecessor had spent a sizable amount of money every year on print and, coming into the job, I was asked by the CEO to increase ROI – i.e. get more done with less. These days, if you are a Niche Publisher, you can pretty much expect your customers to be in the same boat. Marketers must have increasing ROI to justify marketing investments.
Having procured advertising at General Electric in my past career, I knew what I definitely didn't want to do. As GE does not allow for much marketing creativity below the ranks of @bethcomstock, the Marketing VPs and local country leaders are limited to run glossy GE brand advertising that don't mean much to their customers. My customers didn't need yet another #BrilliantFactory campaign, with yet another reference to Edison. They needed solid insight on how to increase production and lower operating expenses – and that UpWind was an independent service provider that could help them with that.
Innovating Wind Industry Advertising
In 2012/2013, there was one single publisher in the US Wind Industry that was open to my ideas and that was WTWH Media, LLC who run Windpower Engineering & Development as one of their titles. Suren Sagadevan and Paul Dvorak at WTWH worked with me to innovate their offering and package it so that it would fit my budget and meet our advertising goals.
As the sales cycle in this industry can stretch well beyond a year, marketing fills multiple roles, from making customers aware of an offering or a company to supporting the sales reps mid-funnel towards closing the deal. The customers are highly educated and are as eager to learn new things as they are to pick someone that deserves it apart. All ads, webinars, banners, ebooks, proposals, presentations must be perfectly orchestrated to play the same tune and the sales reps can't be embarrassed by a cartoonish ad campaign that explain wind turbine performance like it's for children.
Advertiser turns Publisher
The plan that was formed together with WTWH was built on UpWind becoming a publisher of educational ebooks, webinars and video, supported by sponsored LinkedIn advertising as well as a few print and online ads carefully timed around the main industry events. WTWH was going to help UpWind do that and in return WTWH would get insightful industry content that their readership valued.
The majority of UpWind's, at that time, reduced advertising budget was allocated towards WTWH at a time when the traditional decision would have been to reduce all publishers equally. UpWind, in return, received media value many times that of previous years. We didn't go off from a "package" but rather cherry picked the right channel depending on what content we had going at the moment. If we were celebrating gearbox inspection #3,000, we did a video video of it. If we had a great ebook on Vortex Generators, UpWind wrote the ebook and it the same insight was presented in a webinar with follow up emails referencing UpWind's Landing Page for the ebook. Very effective!
For both WTWH and UpWind, it was absolutely paramount that the readers truly valued the published content so that we would never have to defend our editorials. Therefore, as UpWind's team wrote ebooks and when videos and webinars were planned and recorded by WTWH, utmost care was taken to maintain objectiveness and always take the high road.
Embracing Inbound Marketing
Every year, more and more B2B companies launch Inbound Marketing strategies at which point they effectively become publishers. It's a considerable investment and for the right niche media publisher, that strategy can secure a larger piece of an advertiser's budget as opposed to reducing it.
One has to remember that most small and medium sized B2B companies have very limited resources and are often underestimating what it takes to publish high quality integrated content month after month. A savvy Publisher can improve their sales effectiveness by becoming a trusted confidant that help the advertiser stand out as a thought leader – and tap into the advertiser's inbound marketing budget.
Publishers are experts at creating relevant, independent and timely content that helps potential buyers make informed decisions. Embrace change and introduce a new product this spring.
How to sell Inbound Marketing to Advertisers
Some advice to niche publishers who want to introduce an inbound product:
Teach advertisers how to generate content that effectively generates leads … most advertisers underestimate how hard it is to generate high quality content
Proactively offer to partner and create a content map that aligns marketing content with the stages of the buyer's journey
Present very specific data about your audience … consider offering B2B advertisers the ability to reach senior decision makers at their Key Accounts
Present how they can leverage your IT and human resources for generating leads … effectively reducing the need for an all-in-one inbound platform of their own
Focus your sales efforts on the VP of Sales … the VP of Advertising may consider you a competitive threat because you tap into "his" marketing budget
Start for free
Get started with our free edition.

Setup your company. No risk, no commitment, no credit card, no spam.