Aerospace and Security Media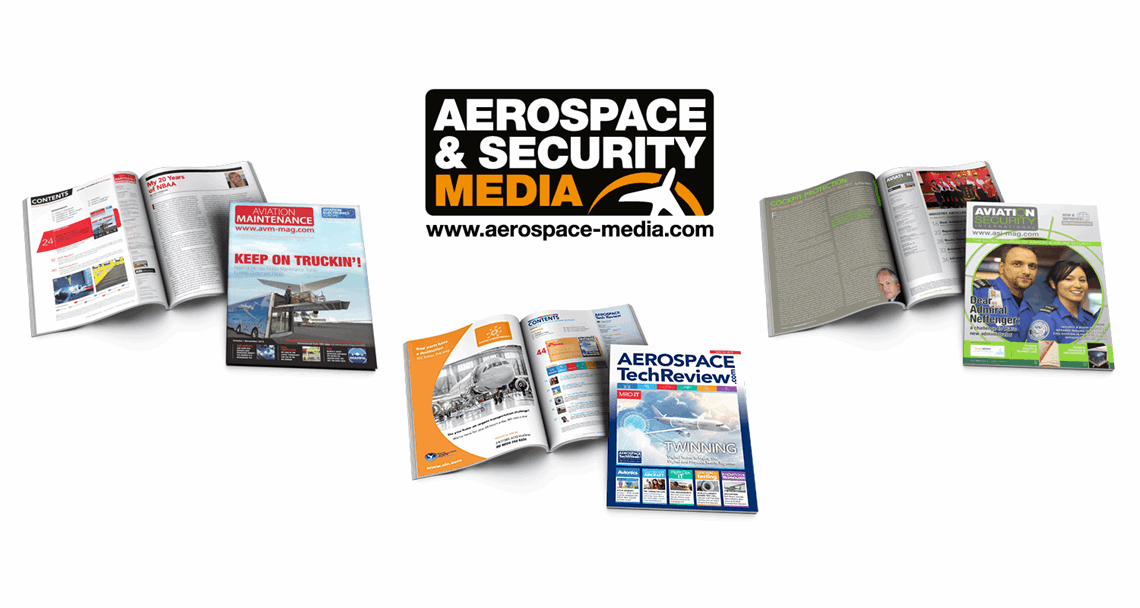 About Aerospace & Security Media
Established in 2002, Aerospace & Security Media operates out of the UK, Spain, France & USA and consists of two main companies – ASI Publications Ltd and Aviation Electronics Expo Ltd.
The media house employs some of the most experienced media professionals in the aviation industry and their innovative and entrepreneurial spirit has positioned their three magazines and events as global industry leaders. The portfolio consist of the following established brands:
Aviation Maintenance Magazine, the most read aviation maintenance publication in the world,
Aerospace Tech REVIEW, a magazine covering the latest news and features about Aerospace Technology,
Aviation Security International, the leading journal for Airline & Airport Security for over 20 years.
In addition, the team manages the Aerospace Tech Week, an annual show which brings together the world's leading aerospace companies to discuss and develop the systems and solutions to meet the needs of the evolving commercial airline and aerospace defence & industries.
In an age when many print publications no-longer exist, and quality editorial content (apart from PR and news) is only available online, Aerospace Tech Review and Aviation Maintenance fills this void (in print and online formats) for people working in all areas of commercial aviation, MRO and defence.
The combination of Aerospace Tech Review magazine, Aviation Maintenance magazine and the Aerospace Tech Week show, creates an unrivalled community and helps build better connections right across the aerospace industry.
Why RunMags was selected
"I had been looking for a turn key package for over 2 years and yet this was the only sensibly priced one that also seemed to offer everything.." says Adrian Broadbent, CEO of Aerospace & Security Media.
How RunMags has delivered value
With staff located across the globe it was vital to have a system that was easy for everyone to easily adopt. Support was also a key requirement and the team were/are able to help at every level. Even though the system can be "off the shelf" there was a requirement to heavily personalize the set up.
Another bonus is the fact that all the other ongoing improvements driven or needed by other publishers also fed straight into our own set up at no extra cost.
"Our mission is to present cutting edge publishing & B2B events in a very modern way using the latest of technologies. ..." says Adrian. "I can honestly say that RunMags innovate and deliver the software that we need to deliver on that commitment".
Free 14 day trial
Try RunMags for free, set up your company and users to see how much the service will cost when your trial ends.

No commitment, no credit card, no spam.
I had been looking for a turn key package for over 2 years and yet this was the only sensibly priced one that also seemed to offer everything.
Adrian Broadbent, CEO