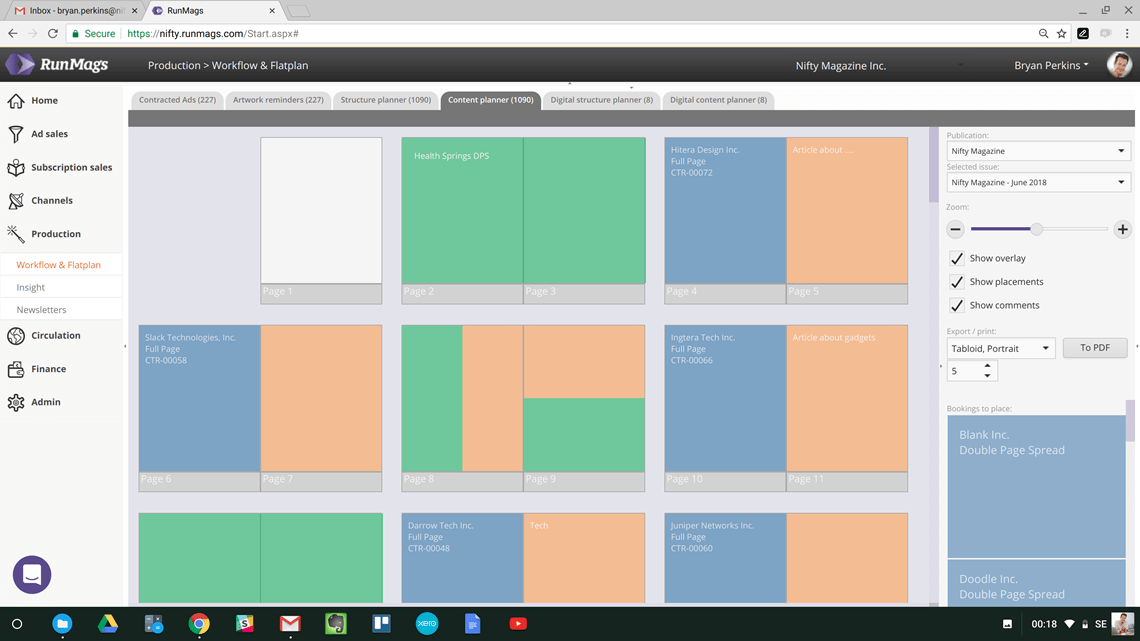 Design print and digital issues with the integrated pagination tool. With RunMags, you can edit and move pages quickly and share flat plans with all contributors. Using the magazine publishing software, the team can drag and drop contracted ad insertions onto the desired page and track artwork delivery for timely production.
Intuitive and user friendly
Managing the pagination of an issue on a computer screen as opposed to a wall set very high demands on usability. The system must be easy to use so that the entire team can use the software correctly, but it also must provide a great overview of the complete issue with all its pages with content and ads. RunMags makes it possible to work on each issue from initial planning stages to final product – always supporting the users so they can create a great magazine that entice the readership.
Drag and drop pages and ads for an overview of the flow in real time. Changes can be made as long as necessary in order to maximize sales revenue from advertisers.
Pagination in the Cloud
As RunMags is a true cloud based system, the pagination tool (flatplan) doesn't require any software downloads at all, a necessity in many other systems. Users can access the system from virtually any computer and device, anywhere in the world. It has never been easier for a team scattered around the world to collaborate.
Production and fulfillment in harmony
RunMags will help you manage the fulfillment process for both print and online advertising. Automate reminders for the advertisers to provide artwork if needed and upload the agreed upon files into RunMags for scheduled publishing online or for the production team to use in the print magazine. Once the artwork has been placed and the magazine has gone into print, billing is finishes off the process.