Subscription sales and circulation
RunMags has full CRM functionality to help you provide the best possible service to subscribers, help them renew subscriptions and engage with your content. Subscription sales with A/B testing is a core feature in RunMags and once a subscription has been created, data flow into the fulfillment processes to ensure the subscriber get the issues, newsletters and invites they have signed up for.
CRM is your playbook for winning with subscribers
To beat the competition you certainly need to create compelling content that subscribers want to consume, but it does not stop there. Consumers expect flawless delivery of their magazines and should something unexpected happen, they expect great service from you when they get in touch. Increasingly, consumers expect you to run a digitized operation where they can update their address or preferences, renew their subscription or simply get in touch with you.
RunMags will help you create and manage subscriber records along with relevant information such as activities, email, sales orders, subscriptions, invoices and more.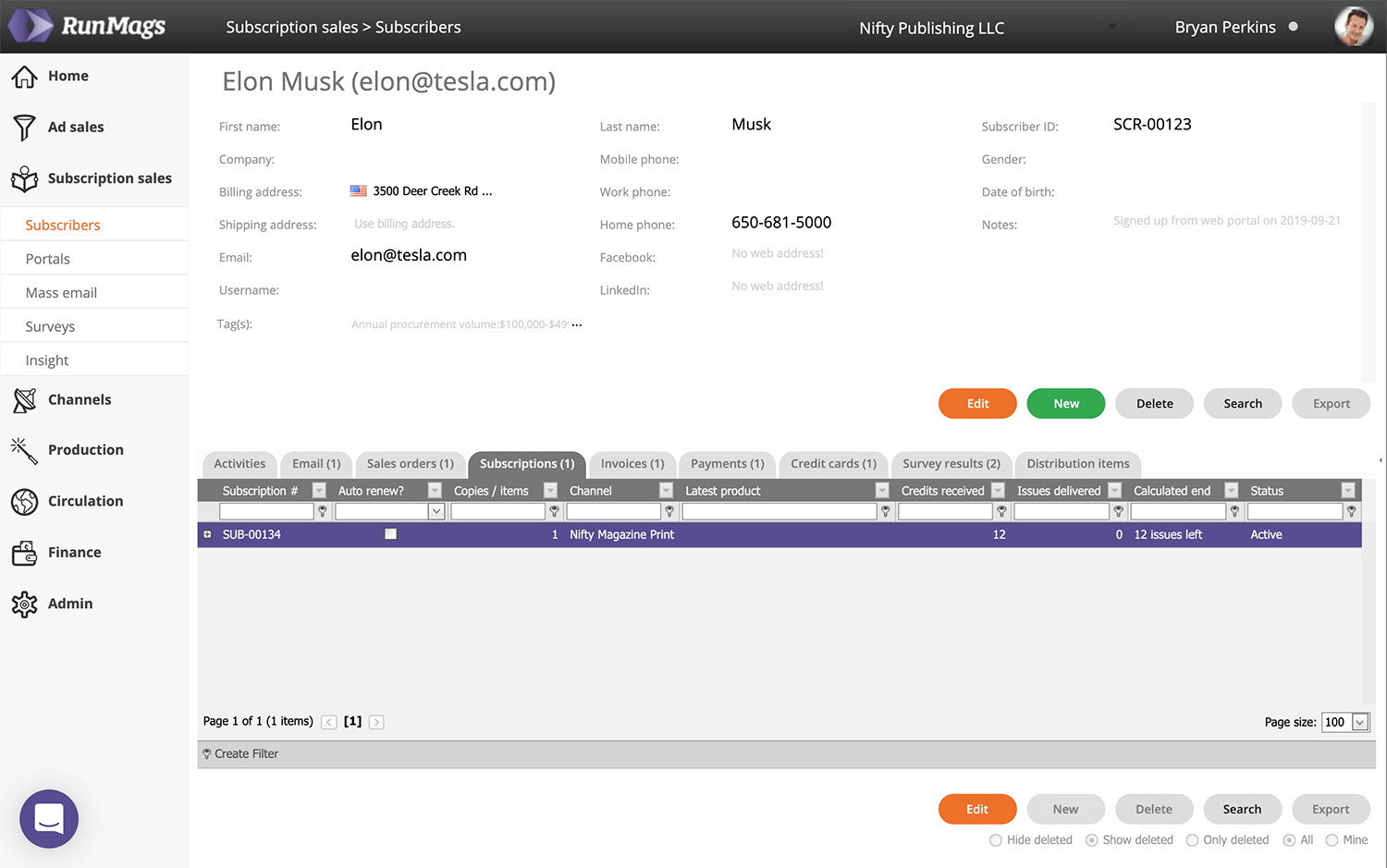 At a glance, service reps can easily understand how to best service the subscriber. Historical sales orders, past and current subscriptions as well as recent engagements with subscriber form an understanding on what's most important to maintain the subscriber. Since RunMags is one interconnected system, pricing automatically flows from subscription management to billing, ensuring that each subscriber is billed correctly.
Run campaigns with A/B testing to attract subscribers online
Create seasonal campaigns and design responsive portals that will look great on any device, all securely hosted by RunMags. Link to the campaign urls from your website and let subscribers sign up and pay using their credit cards. Implement A/B testing to gain knowledge on which portal design and value proposition that performs the best.
When someone subscribes online, their contact information is automatically populating the subscriber database in RunMags and added to the magazine circulation as well as to email newsletters of choice. A subscription order is created so you can target the subscriber for a renewal and the processed payment is also recorded for future reference.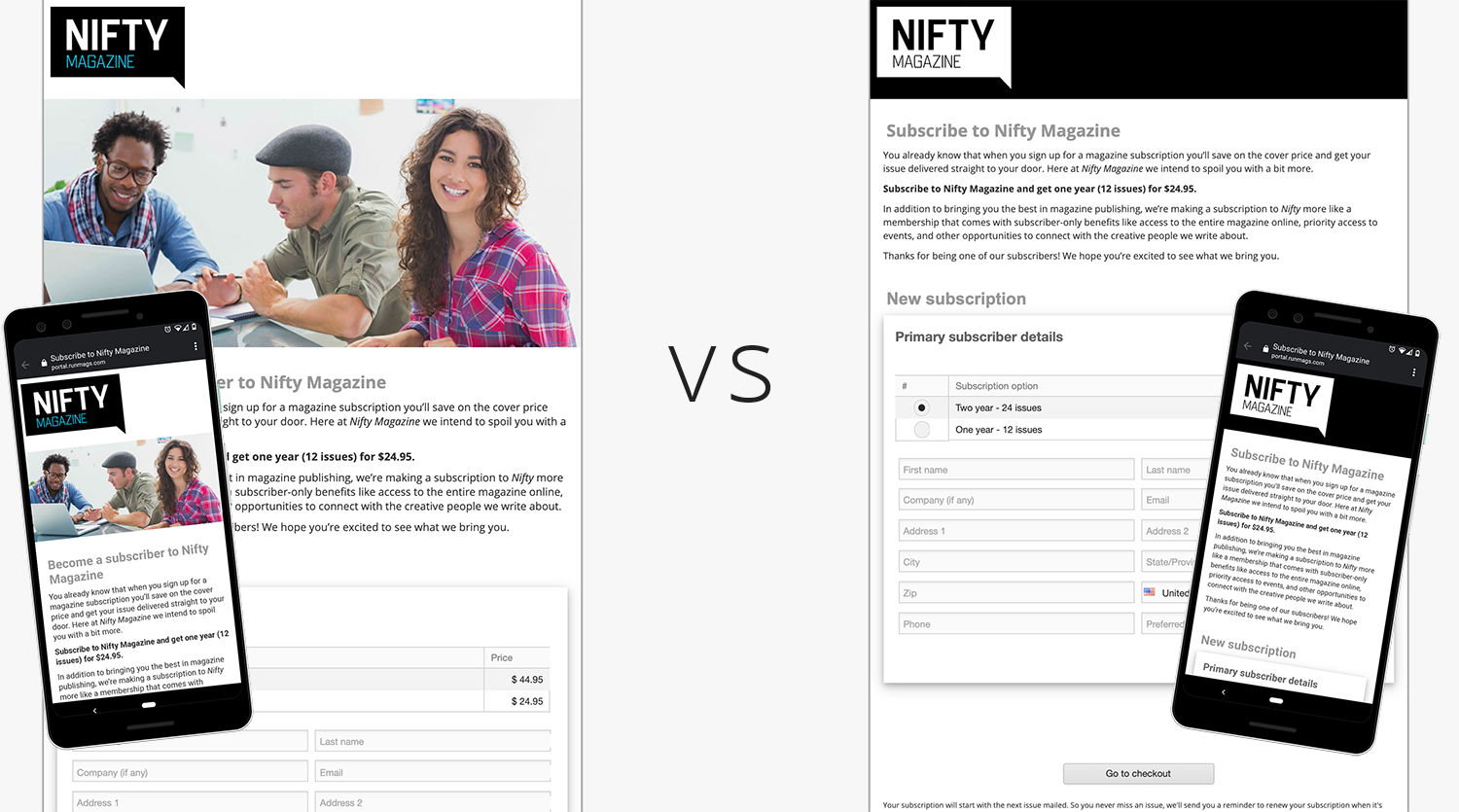 The portal framework in RunMags is not just a form that you have to paste into your own website's page. Instead, it's an easy way to create secure and responsive landing pages, branded the way you want with zero coding needs. Set up as many pages you like and connect different subscription produces to them. Stop using forms containing promo code fields that reveals to subscribers that there is a way to get a rebate. Instead, set up specific promo pages that are active during specific time windows.
We process the credit card payments with Stripe and upon successful payment the subscriber is greeted by a thank-you-page with your design and then redirected to the url you specify. In addition, you can also ask them to fill out a questionnaire that links to tags in the CRM, useful for segmentation and email marketing.
Secure stellar renewal rates with automated email
Automate renewal email notices to be sent out when subscribers have only a few issues left in their subscriptions and ramp up the discounts until the subscription is renewed. Since RunMags is cloud based and role based, you can also engage outside telemarketing firms to access your system to call subscribers in order to convince them to renew.