What is RunMags?
RunMags is a comprehensive software solution to support magazine publishers through their digital transformation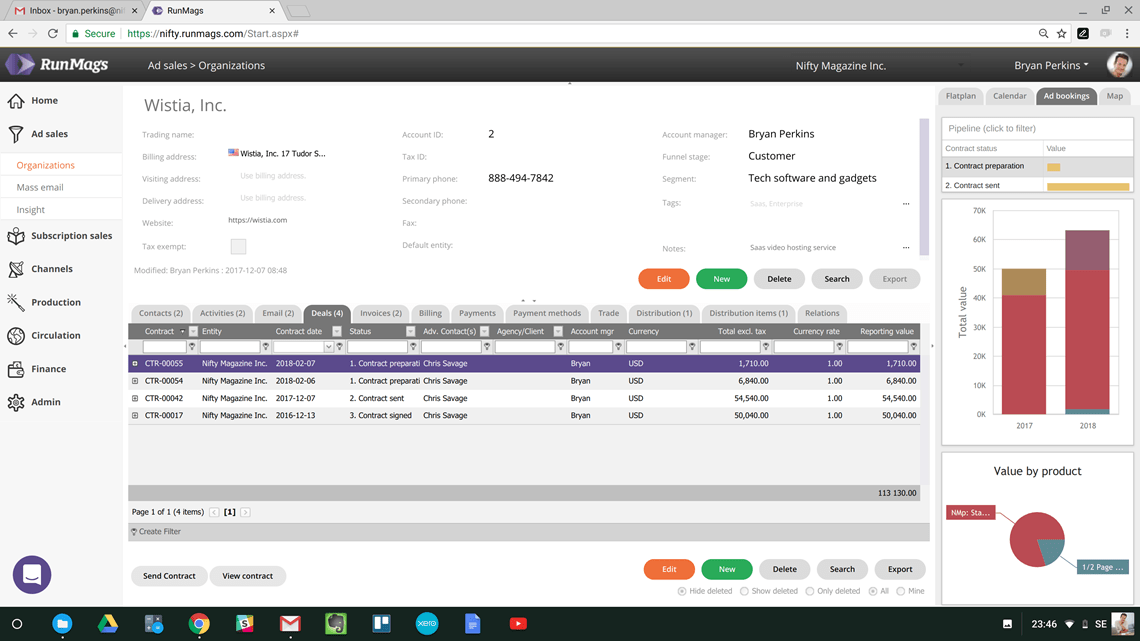 RunMags makes modern magazine publishing manageable and profitable
Modern magazine publishers use RunMags Magazine Publishing Software to sell advertising, attract subscribers, manage production and get paid. Whether you're an established publisher or a startup, RunMags can provide the tools needed to improve productivity and increase sales.
What sets RunMags apart?
RunMags was born in the cloud and is built for a workforce that thrives in a transparent and innovative environment. Your teams can operate in a remote-first business environment and our rapid release schedule provides new features on an ongoing basis without causing business interruptions.
We've built RunMags with the best technology available and we constantly strive to improve our platform. With RunMags, your customer-facing portals, proposals, apps, and payment gateways will always be responsive for mobile use and present your brand as a forward-looking media partner. Advertisers will invest in you because they feel you are a winner and gateway to their customers. Subscribers will engage with you because they will feel you respect their privacy.
RunMags will support your digital transformation
Media businesses face almost unprecedented training and development challenges. Every aspect of publishing is pivoting towards a multi-platform, brand-centric approach embracing not only content creation and distribution but data collection and management, eCommerce, events, and so on. This is a world away from the approach that many publishers are used to and it requires a high degree of re-skilling and some strategic hiring. Fundamentally, it's a challenge of delivering cultural change.
Managing through the change can be difficult but the way RunMags supports core business processes and make it easy for employees to do the right thing at the right time fuels the change. With RunMags every employee can be a digital superstar, effectively automating client communication, order conversions, and payment processing.
RunMags will help you protect the privacy of your customers
Since RunMags is real cloud-based software, you don't have to invest in costly on-premise IT infrastructure and staff. We're a global company with global operations and customers on all continents except the Antarctic. We continually roll out free updates without affecting customizations or integrations made and the service is provided with anywhere, anytime access with automatic backups and secure data protection.
All of the above is done with utmost care to protect the privacy of your customers. Trust is already an asset for publishers and it will grow increasingly more important in the future. Content will always be King but Trust will be Queen in a world of information overload.
How do you sign up for RunMags?
Go to out signup page and register for a free 14 day trial. Try RunMags, set up your company and users to see how much the service will cost when your trial ends. At the end of the trial, if you want to continue, enter your credit card information and operate your business on RunMags for as long as you please. If you one day want to end the subscription, you can liberate your data and terminate without fees.
Start for free
Get started with our free edition.

Setup your company. No risk, no commitment, no credit card, no spam.