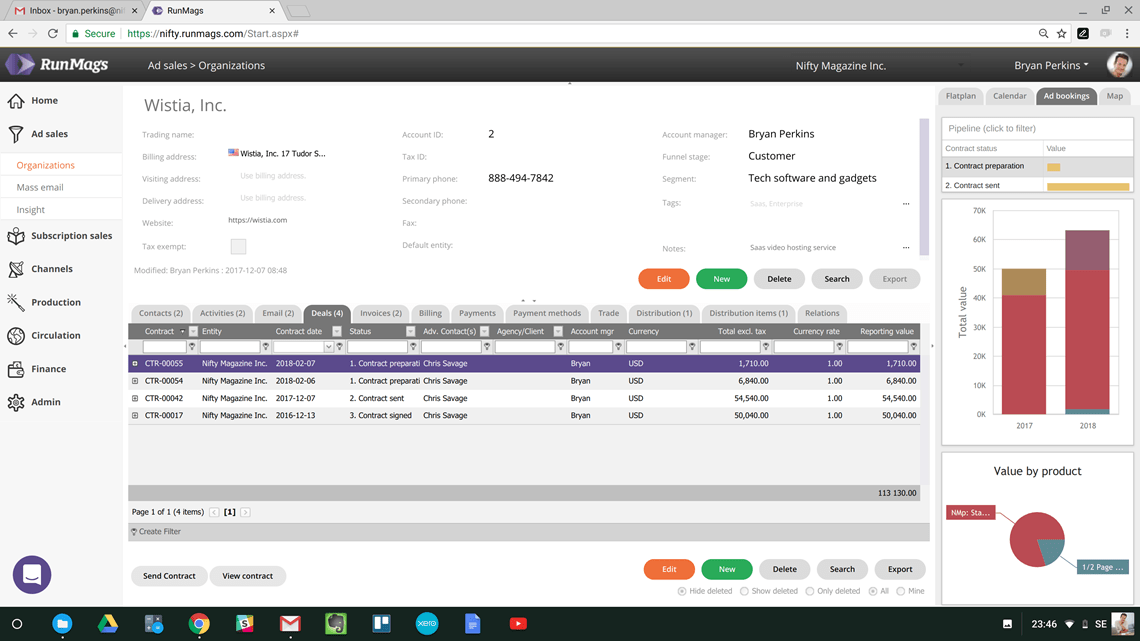 Modern magazine publishers use RunMags Magazine Publishing Software to sell advertising, attract subscribers, manage production and get paid.
What value does RunMags deliver?
Magazine publishers need an affordable platform that can grow with them. Whether you are setting yourself up for success from the start or growing your established publication house, our platform can be set up to meet your specific needs.
RunMags improves customer relations by making client information readily available when needed.
RunMags makes it easy to create new proposals and contracts, allowing sales reps to increase the volume of offers and closed deals.
RunMags improves collaboration within the team by letting creative, sales, production, management and finance teams work together on one platform.
RunMags increases productivity by automating tedious tasks and eliminates unnecessary administration.
What makes RunMags so special?
RunMags is built as a modern cloud-based platform where you only pay for features that you use. Whether you're an established print publisher or a startup blogger, RunMags can provide the tools needed to improve productivity and increase sales.
With unlimited free users, priced at $300 per month, a publisher can manage their business in RunMags; keep track of advertisers, manage sales and contracts for quality fulfillment as well as billing and collections. Once a contract is signed, advertising artwork can be uploaded into the system and pushed to the website for the contracted duration, with automated invoicing of the client.
For less than $600 per month, an established publishing company, who run ten publications in print, in digital flip as well as websites, can manage all issues, production and sales in RunMags. The pagination tool helps planning each issue and improves collaboration so that everyone is up to date on content, available ad space, and more.
All modules available are carefully crafted to ensure one true source of data so that management can trust the integrated analysis tools to inform decision making and improve the business. Every single revenue stream links back to customers, publications, issues and more, so that even if you start small and grow over time into a publication house with print, digital flips, websites, events, you know you can always trust the data to be correct.
Since RunMags is real cloud-based software, our customers don't have to invest in costly on-premise IT infrastructure and staff. We continually roll out regular free updates without affecting customizations or integrations made and the service is provided with anywhere, anytime access with automatic backups and secure data protection. No installation of software. No startup or cancellation fees. No risk.
The service comes with unlimited online support from an experienced team. For publishers who can benefit from taking a hard look at how things have been done in the past and how software can help streamline the business, we offer management consulting services and as well as user education. We have years of experience implementing ERP and CRM software in large and small organizations and we can also help extract data from legacy systems, clean it, and import into RunMags before the team start using the tools.
How do you sign up for RunMags?
Go to signup.runmags.com and register for a free 14 day trial. Try RunMags, set up your company and users to see how much the service will cost when your trial ends. At the end of the trial, if you want to continue, enter your credit card information and operate your business on RunMags for as long as you please. If you one day want to end the subscription, you can liberate your data and terminate without fees.