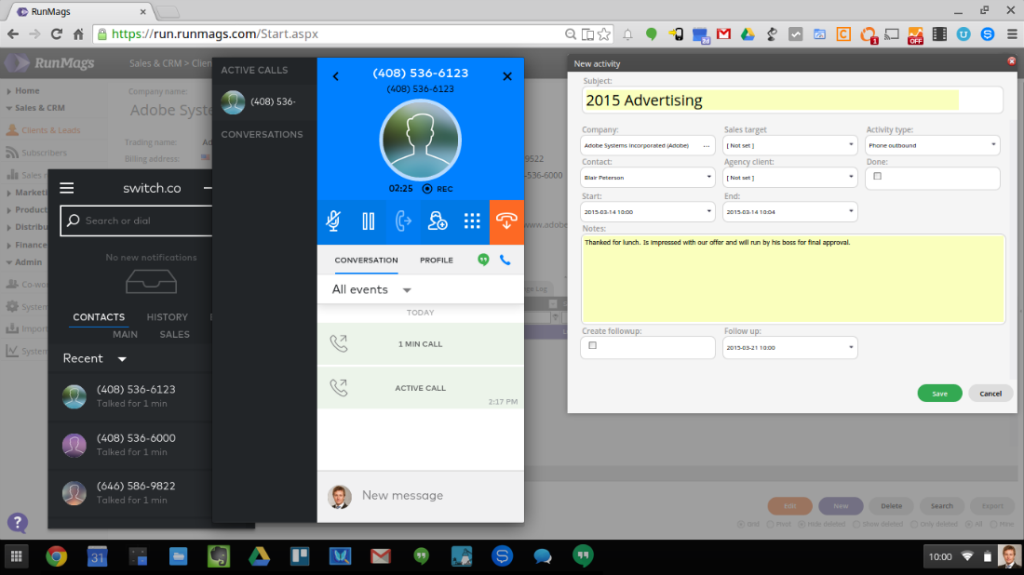 2015-03-07 in Learning
Communication apps that save Magazine Publishers money
At RunMags, we are Google Apps addicts! Our platform is deeply integrated with the Google Apps Ecosystem, making it possible for users to sign in to RunMags seamlessly using their Google account and when working in RunMags use Google Email, Calendar, Drive, Docs, Hangouts and more.
User frustration from multiple windows popping up, software that has to be installed, documents and forms loading slowly, and different passwords for different system must be avoided as much as possible. That's why we love Google Apps! By avoiding these issues, we get happier employees, we improve productivity and we save money.
In our quest to run our own company on the Google Apps Ecosystem, we're constantly on the lookout for other apps and services that work well with the tools we're already using … and sometimes a new app appears that make us switch out one that we've been using for some time. With this post we'd like to share our experience because we believe that a few of the tools that we are using can also be communication apps that save Magazine Publishers money.
UberConference is a freemium phone conferencing tool that let you schedule and conduct calls with multiple attendees, share your screen and collaborate. At RunMags, we use UberConference for customer demos, training and for internal meetings.
Attendees can join via your custom internet link or call your own dedicated number, toll or toll free within the US or Canada, but don't need a PIN to join. When everybody is on the call, you can see who's joined the call and where they are calling in from.
On the call you have HD audio and the ability to mute/unmute callers, text, record the call, and share your screen with impressive quality. The Google Apps integration also allow you start a conference within a Google Docs document, making it really easy to collaborate.
In addition, UberConference offers international call-in access from over 40 countries, custom hold music and outbound dialing to simultaneously call everyone when the meeting starts. Once the meeting is over you can have meeting notes automatically go to your Evernote account for future reference.
As a Magazine Publisher, you and your team can use UberConference to show potential advertisers available inventory in the upcoming issue, walk them through a target segment of your subscribers, and collaborate on any matters that may arise. Schedule your weekly calls with the team in Google Calendar and have everybody join with the click of a button.
If you recently have called us on our toll free 1800-RUNMAGS (786-6247) or toll 646-854-4001, you have used Switch.co without knowing it. It is also likely that the person at RunMags you talked to was not in the United States at the moment as we tend to travel and live quite a nomadic lifestyle.
Switch is a phone system for modern companies. There's no hardware to purchase and users can make outbound calls and receive inbound calls using their computer or Apple/Android phone wherever they are in the World.
For $15 per month, you get one main business line for your company, unlimited domestic calls and texts, and if you want to set your whole team up with a Switch phone number, you would just pay $15 per person and month. Your Switch numbers will let you make and receive unlimited domestic calls and text messages from your mobile phone or computer-whichever device works for you and your team.
You can call numbers on the web by clicking the number. Whether from an email signature, your favorite CRM (i.e. RunMags), or any number on the web, the Switch.co Chrome extension enables instant calling to increase efficiency.
As a Magazine Publisher, you and your team can use Switch to organize sales, fulfillment, finance, and other departments with a virtual receptionist. Direct callers using a dial-by-name directory, custom greetings, and business hours. Switch will make it easy to transfer and forward calls to coworkers, check voicemail, and record calls all with a click from your desktop and mobile apps.
Magazine Publishing teams are a busy breed. There's usually not much spare time and the small amount of it you have should not be wasted on inefficient schedule coordination. Say hello to Calendly and say goodbye to email and phone tag.
Through a nice integration with Gmail and Google Calendar, Calendly let you publish your available schedule to your personal Calendly webpage. Make it super easy for customers to connect with you, regardless of timezone, and avoid back-to-back meetings by blocking out a time period before or after meetings, giving yourself a break.
Calendly is offered as a freemium service where the $10 per month version removes Calendly branding and allow you to personalize notifications and send automated reminders.
Try the tools by signing up for a demo of RunMags
Sign up for a demo of RunMags here to learn how you can use RunMags together with UberConference, Switch and Calendly.
Start for free
Get started with our free edition.

Setup your company. No risk, no commitment, no credit card, no spam.