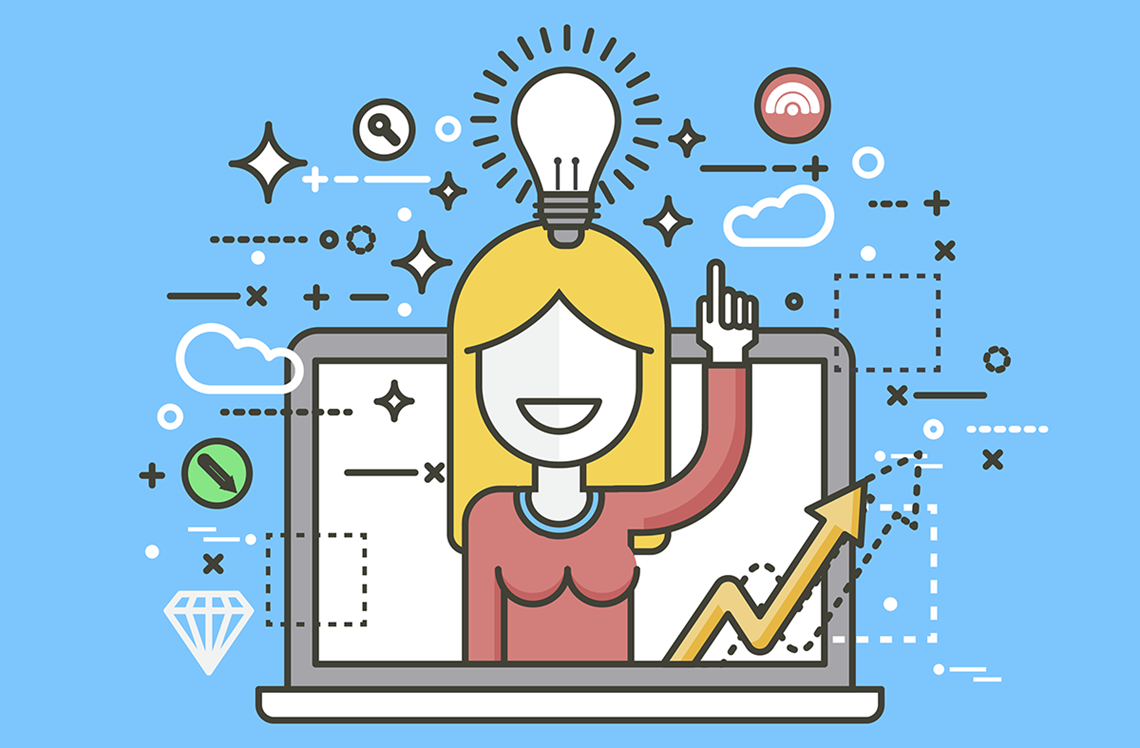 2017-06-08 in Learning
Best practices for promoting your magazine to readers
Social media is merely one out of many channels you should employ to promote your magazine to all the readers in the world.
Build your web presence
When you're asking yourself how to promote a magazine to readers, the first place any publisher should look is at their own web presence. For example, promoting your app on your website is an important part of growing awareness and sales of your digital edition. The way you promote your app will depend on if your publication is digital only and distributed exclusively on app store sales, or if you sell print and digital subscriptions on your website.
If your publication falls into the later, you'll want to evaluate the best way to incorporate your app into your online subscription sales. On the other hand, if your publication is digital-only, you can develop a landing page (stand alone or as a part of your website) to promote your app and lead visitors towards the app stores.
Naturally you already have a website where you drive traffic via organic search, convert visitors to email subscribers and sell your numerous products, right? Don't forget to sell your digital magazine there, too – believe it or not, I've stumbled across quite a few otherwise savvy publishers whose digital magazine is mentioned nowhere on their site!
Build landing pages that convert
A landing page gives you more visibility in search and, while it's true that your Apple iTunes and Google Play page will show up in search, developing your own web presence allows you to communicate and promote your app in ways the stores simply don't allow.
Another thing you'll want to do to communicate with mobile users is to set up an app banner on your website. These banners will show up to mobile visitors, directing them to download you app. It's important to configure your app banners to direct users to the correct app store, based on the device they are using. There are a few ways to implement universal app banners that work on Android and iOS – this article explains some popular ways.
Invest time on App Store Optimization (ASO)
When we're talking about mobile apps, the starting point for user acquisition is developing a strong search presence on the app stores. App publishers can improve their organic results by adopting some basic App Store Optimization (ASO) strategies that boost app store ranking and visitor conversion rates, in addition to using tools (usually at a cost) to gain competitive insights.
Your app description, keywords and icon all play a role in driving traffic to your app. That being said, maybe the most underestimated element to optimize are your app screenshots, which should portray realistic usage of your app while highlighting the most important features or exclusive content in your digital edition. Many magazine publishers will also update their first screenshot to the cover of the latest issue, which is a great strategy considering it's the first screenshot that is previewed in search results!
Enact a plan to get reviews & ratings
There's no sense gathering reviews and ratings until you have a lot of people using your app, right? Wrong. Both reviews and ratings are an important part of your ranking algorithm, plus they give users social proof (i.e. confirmation about the benefits of downloading your app).
On Apple's App Store, your average rating will only kick in once you've received five ratings, so getting a jump start on reviews is important. Asking app users to review your app with push or in-app messaging is one strategy, but it will take some time to build up an active user base, and you need reviews now. So what can you do?
To get those all important first reviews, reach out to your beta testers, friends and customers via email. You can even offer an incentive (like a free issue) to encourage users to rate your app. Also, respond to negative reviews immediately (on Google Play) as it shows you're active in optimizing the app experience, which will help you gain more users in the long run.
Build your viral acquisition strategy early
Generating and converting quality traffic to the app store is the goal of your app promotion strategy, but the secret sauce to growth hacking is building virality into your app. What does this mean? Simply put, this means making it easy (and rewarding!) for app users to share app content or actions across social networks, email, or chat – with the direct benefit of driving referral traffic to the app store.
Gaming apps have led the charge on this trend by leveraging social login to invite friends to play, to share accomplishment and by rewarding users with bonus points, etc. In short, including these features in your app right from the start is a great way to gain viral momentum early-on.
Set aside a budget for paid acquisition
Not interested in spending money to get downloads? You may want to rethink that. While organic traffic might make up the majority of your traffic, it's paid acquisition that can fuel quicker growth. Even a small budget can help get your app in front a large number of people, helping you acquire quality users in short sprints (vs. sustainable "marathon" campaigns) and as a consequence boost your ranking.
Don't forget about offline promotion
Real world marketing isn't dead, even with all the attention on digital. But the trick is to integrate your offline campaigns in such a way that it makes the transition to mobile easy. Viral marketing campaigns that use tactics like launch events, publicity or advertising, can increase word of mouth for your app in local markets, but even the best campaigns can fail if the call to action isn't clear. Mention where your app can be downloaded and include a memorable, short URL or a QR code on your printed marketing materials that links to the app store to bridge offline and online worlds.
Digital Magazine Marketing with Social Media
There's no excuse not to use one digital medium to promote another. But believe it or not, some of the biggest players have yet to figure this out – and yes, it absolutely makes a difference! For example, OK! magazine, with a whopping digital circulation of 196k, features prominent promotion for the digital edition in their timeline.
Build your readership with email
Invite people to subscribe to a limited news flow and-/or test subscription. Don't buy lists.
In either case, for E-Magazines I think exclusivity is your aim. Or else it will be very difficult to differentiate from a normal content website. So the distribution has to be limited. Do this, you can publicize a really interesting piece from your edition or images and ask users to subscribe to get that edition once it comes out. The number of people who will get to subscribe can be restricted. This I think can work well for really captivating content.
Start for free
Get started with our free edition.

Setup your company. No risk, no commitment, no credit card, no spam.