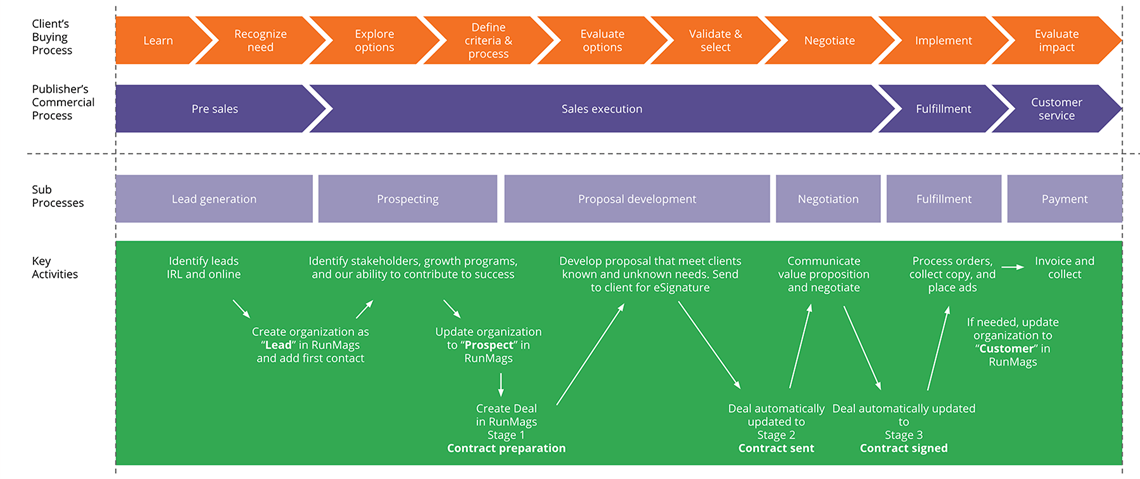 2018-12-20 in Learning
Advertising sales ops best practice
What's the best way to organize an advertising sales team and their customer approach? There are millions of ways, but here we want to give you our take on what seems to be working for our most successful customers plus some of our homegrown advice.
We were recently asked by one of our long-term customers if we have been able to identify some best practices for how to organize sales activities when using RunMags. Specifically, this concerned how account ownership should be assigned to sales reps when the publisher own and publish one or several brands.
To boil it down to a very concrete question; In RunMags, there is only one field on the account to identify a main sales rep, so if one then have several different brands, represented by different sales reps, should one create duplicate client records and assign different sales reps?
What our data tells us
Of course there's no simple answer to this question. A too easy of a response would be to say that duplication of data is always bad so don't split up a client to be managed separately. Sure, duplicated data may not be very effective to manage, but in some organizations it could make sense if sales came out of it.
With that being said, when reviewing how our customers run their sales operations, looking at sales volumes and sales team effectiveness, it becomes clear that having one person being the overall coordinating sales rep per account is a best practice. Sales team effectiveness (measured in volume divided by number of sales reps employed) decreases dramatically when accounts are not managed and owned.
Account Management
Most of our customers who manage several brands effectively assign account ownership to one single person but in some cases also allow brand-specific sales reps to approach the clients on their own. Overall account management is performed in a collaborative fashion, led by the official account manager, and the sales reps with specific knowledge of their brands (how they can add value to the client) can drive sales for the brand.
This seem to be the most effective way. Recently launched brands can have specific sales reps assigned to focus on sales for that brand while the increase of the publisher's overall share of the client's wallet can be the focus of the account manager.
An added benefit of great account management coordinated through a 1-on-1 relationship with the client is that you make it easy to buy from you. Clients don't have time to explain their marketing plans, growth plans and advertising needs several times. If you don't get it the first time, chances are that you are going to miss the boat. From the first meeting you need to have a perfect understanding of your client's challenges and how you can help them be successful as well as how you can compete.
Competing for wallet share (slice of pie)
Publishers effectively compete for share of wallet. Over time, client's can certainly increase their advertising investment and at specific points even have a short-term dramatic increase to support a product launch or an other growth initiative, but in general it's a slice of pie that a publisher is competing for. How large do you want your slice to be?
In our experience, the single biggest missed opportunity among publishers is that they are not aligning their commercial (sales & marketing) process to the buying process of their clients and that they are not quick enough to adapt their product inventory to support clients effectively.
Aligning your commercial process to the client's buying process
At the top of this blog post is a layout of a generic publisher's commercial business process, aligned to client's buying process. The publisher's process recognize that these days the clients are quite educated at the point when they are requesting a quote from publishers. In fact, they may already be more than 50% through their buying process at that point.
This means that the first time you get in touch with a client they already have been educated by somebody else and that somebody may be your worst competitor. The client may just be asking for your quote to get ammo to drive your competitor down on price.

Publishers are perfectly positioned to cost effectively educate their client base through various channels such as websites, in newsletters, social media as a complement to real life meetings and phone calls. Don't miss out on that opportunity to help clients understand how they should approach advertising. You'll have a great return on investment throughout the rest of your sales cycle to the closure of deals.
In general, publishers are pretty good at keeping track of client's budgeting processes, i.e. at what point during the year that money will be available for booking advertising. Try to adapt your educational content and schedule it to match the client's purchasing cycle. If they typically book 75% of the next year's advertising budget in December, then you need to start educating the clients during the spring, then ramp up in the fall and present proposals in October at the latest.
Rapidly adapting your product inventory to support client needs
As said above, it's also quite important these days to rapidly adapt your product inventory to client needs. Very much like for magazine publishers, the competitive landscape is rapidly changing for those who advertise. Many advertisers have also embarked on becoming publishers themselves ... with varying results.
Our advice to publishers is to see this as an opportunity to compete for wallet share. When you are meeting with clients, make sure you understand their business and is able to consult with them to provide advice on how they could grow their business. Use RunMags to develop an understanding of your subscriber base, how subscribers are tagged, demographics, etc. and present new ideas on how your client could reach your subscribers base.
Use your imagination to invent new channels and ways to monetize your services. In RunMags you can now set up advertising and sponsorship inventory in social media and newsletter channels. You can also send email to your subscriber base directly from RunMags.
We can't wait to see what you invent!
Concluding remarks
So our response to the original question became quite expanded. That being said, the expanded response supports the argument for 1-on-1 account management. To implement a sales model described in this post your client communication must be very effective. We believe it's going to do that well if more than one person is assigned account ownership.
Download process template
Do you think the ideas and the process chart in this blog post are interesting?
Then create your own unique sales and marketing process and share it with your team so that you are all on the same page on how to work together. Click the download button below and make a copy of the Google Slides document so that you can edit it to fit your specific business process.
RunMags is built to support predefined business processes and in the template you'll see the steps that concern making entries in RunMags.
Start for free
Get started with our free edition.

Setup your company. No risk, no commitment, no credit card, no spam.