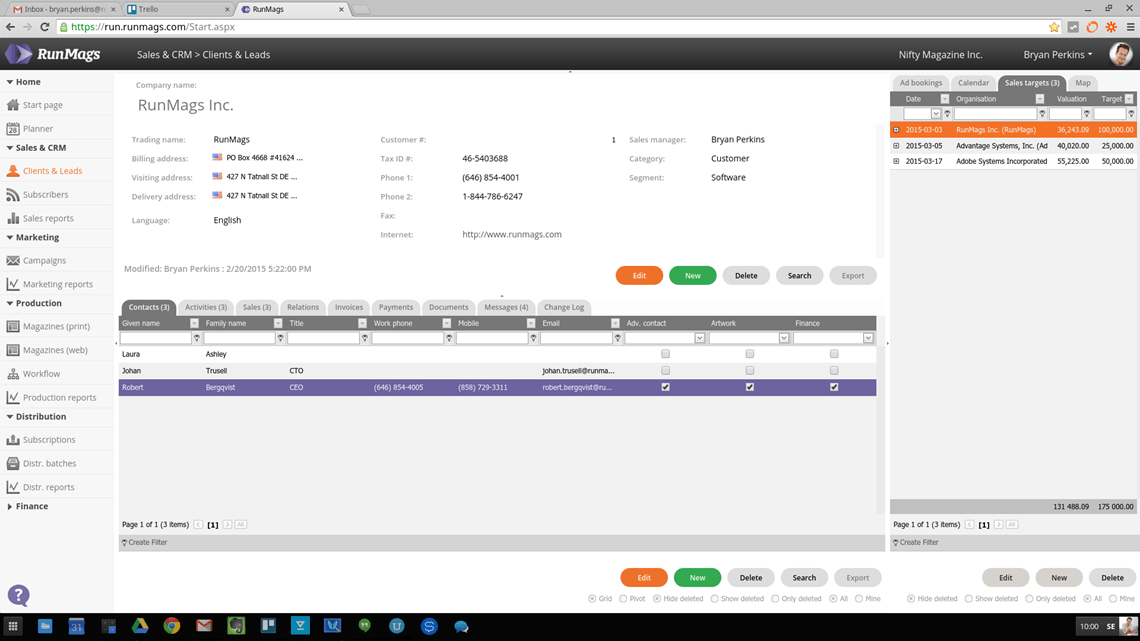 2015-01-10 in
Running a modern magazine publishing company
Announcing a new CRM/ERP/Fulfillment software for publishers
We're proud to announce RunMags, a cloud-based platform for modern magazine publishing on blogs, ezines and websites as well as print and digital flip magazines. It's an all-in-one integrated solution for managing CRM, ad sales, proposals, contracts, pagination, billing, reports and more.
With the advent of internet, the world of modern magazine publishing changed dramatically and it will certainly continue to change. We've built RunMags as a platform that will be able to evolve with the needs and ideas of the world's groundbreaking magazine publishers. Magazines are now published as digital copies of print magazines as well on websites or as ezines, in addition to the traditional print magazines. Content for the internet also includes integrated media, for example video, that breaks down the barrier between magazines and TV channels. Our job is to work for the publishers who want to take that next step.
Because the landscape is changing so rapidly and only the publishers that deliver value to their readers and/or advertisers will survive, we have designed RunMags to be flexible so its value to publishers evolves. Successful publishers produce interesting magazines that people want to read … on time. Every week, month or quarter. Technologies for reaching readers are changing and running a well-oiled magazine operation is not an easy job, but it is indeed possible to use software to automate processes, send reminders and make it easy for the team to work together.
A platform built for the cloud = modern magazine publishing
We believe that the key to a super lean business model in today's business environment is to run as many core business processes in the cloud as possible and to use the software to automate tedious tasks and drive productivity. Magazine publishing processes and product offerings should certainly be designed with the advertisers and subscribers in mind, but also optimize the use of cloud-based software in order to drive cost out, eliminate the need for expensive hardware infrastructures and IT departments.
At a more hands-on level, this means that the software should guide users to what ad space that has to be sold and help make sure the ads are placed on time at the right place and that they deliver value to the advertisers. In case the advertiser run an inbound marketing strategy, then the software should facilitate that strategy. Salespeople come and go – promises still needs to be delivered, so they need to be documented in a formal contract and signed by the advertiser.
Automating your business = less administrative work
If there is a properly documented contract, broken down into deliverables that computers can understand, then the software should also help production get the advert artwork in time through automated reminders to the advertisers. And facilitate placement in the correct issue or spot on the website. Editorials, paid or unpaid, should also be tracked and managed so that the issue is produced in time.
From fulfillment, the software should also keep track of when billing is to be performed, automated or manual. With the correct figures and discounts of course. When the magazine is out, the invoice should be out as soon as possible and if needed, the software should send out reminders for late payers, driving home the revenue.
Running a profitable magazine is so much more than selecting the publishing platform for that digital flip magazine. RunMags is the software business platform that will help you keep the admin overhead to a minimum so that you can grow your business profitably.
Learn more about what makes RunMags so special and the value the platform delivers here or go to runmags.com/signup and register for a free 14 day trial. We're looking forward to hearing from you!