Why maintain separate contact databases when you can maintain all your contacts in one system? With RunMags magazine circulation and subscription management system, you keep track of subscribers and their addresses with the same high standards as you manage your advertisers. Manage your magazine circulation and the distribution process for all your print magazines with a minimum of tedious tasks and without costly fulfillment houses.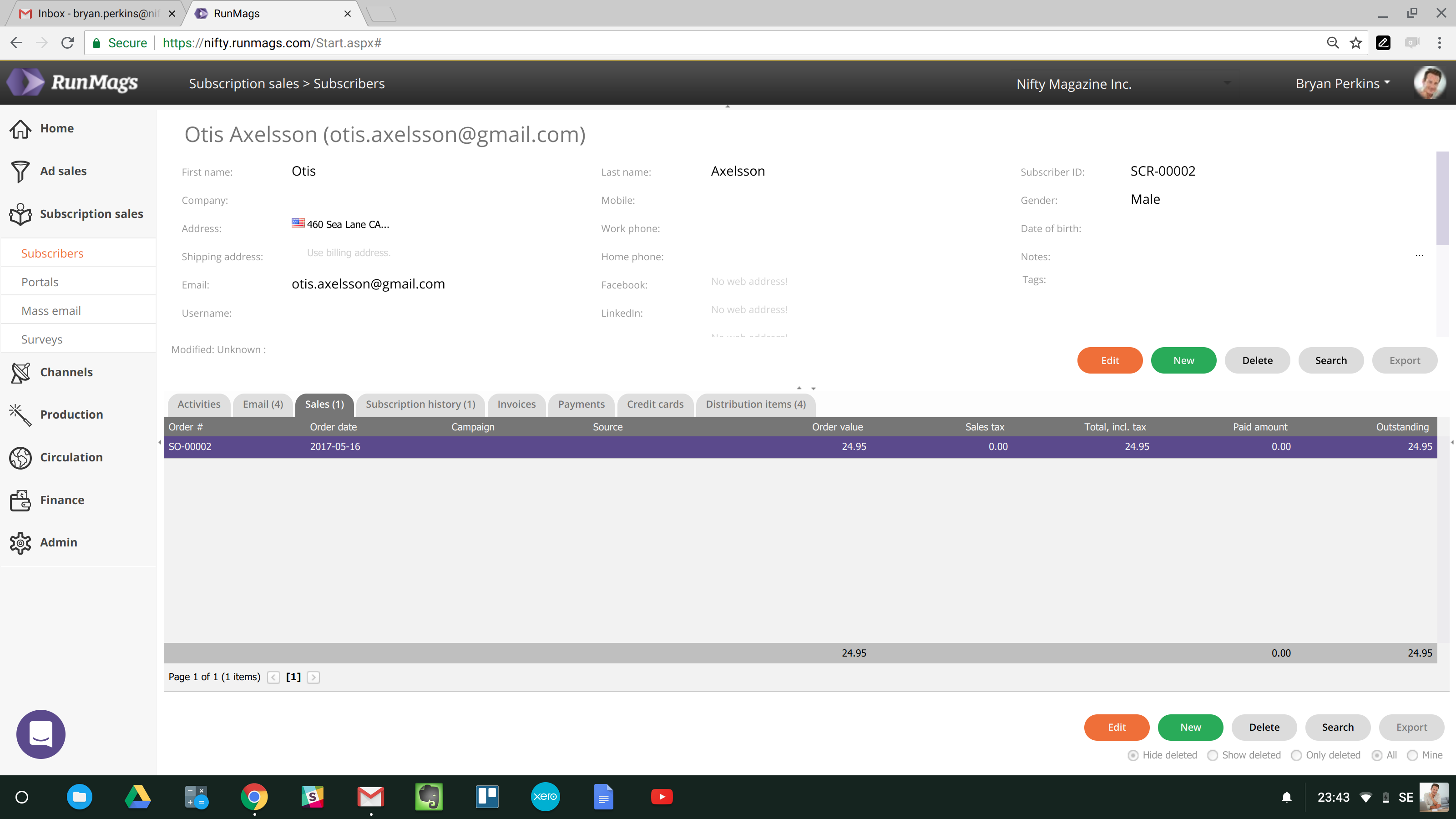 Flawless magazine subscription management
With RunMags, you can track when subscriptions started and when they expire. Delivery address(es) and contact information is kept secure so you can guarantee your customer's privacy. Since RunMags is one interconnected system, pricing automatically flows from subscription management to billing, ensuring that each subscriber is billed correctly.
Run campaigns to attract subscribers online
Create seasonal campaigns and design responsive portals that will look great on any device, all hosted by RunMags. Link to the campaigns from your website and let subscribers sign up and pay using their credit card.
When someone subscribes online, their contact information is automatically populating the subscriber database in RunMags and added to the magazine circulation. A subscription order is created so you can target the subscriber for a renewal and the processed payment is also recorded for future reference.
The portal tool that comes with RunMags is not just a form that you have to paste into your own website's page. Rather it's an actual landing page, branded the way you want it to look, that you can refer subscribers to.
We process the credit card payments with Stripe.com and upon successful payment the subscriber is greeted by a thank-you-page with your design and then redirected to the web page you specifty.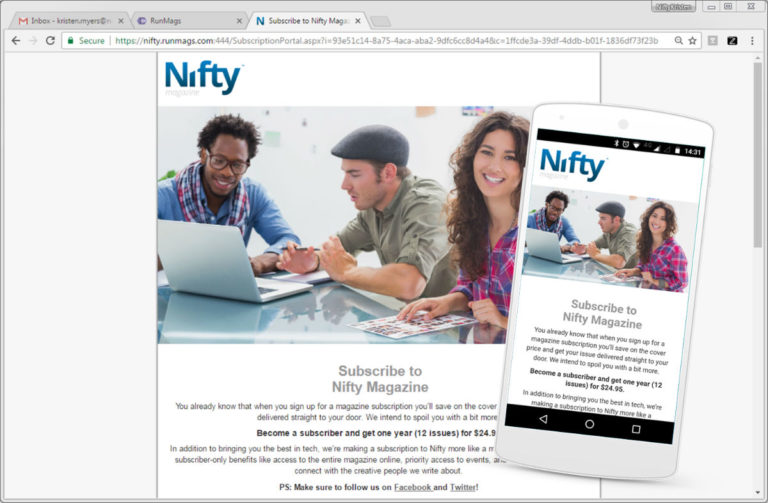 Secure stellar renewal rates
Automate renewal email notices to be sent out when subscribers have only a few issues left in their subscriptions and ramp up the discounts until the subscription is renewed. Since RunMags is cloud based and role based, you can also engage outside telemarketing firms to access your system to call subscribers in order to convince them to renew.
Leverage your readership to increase ad sales
Segment, profile and keep track of subscribers for campaigns, targeted advertising as well as subscription renewals. Your circulation / readership is one of your biggest assets and you need to leverage it carefully with proper tools. By segmenting your readership in terms that make sense for your advertisers, you can create convincing sales arguments that will let you compete on other terms than price. Integrate with your media website to launch an inbound marketing strategy.
Automate comp list management
Sending out complimentary issues to advertisers and prospects is an important part of selling advertising. But why manage this manually when you can have RunMags keep track of who's being featured in the upcoming issue and make sure they get one or two copies. Set rules for how advertisers should get on the list for complimentary issues, whether they are advertising or not. You can also manually assign copies even if the rules are not met.