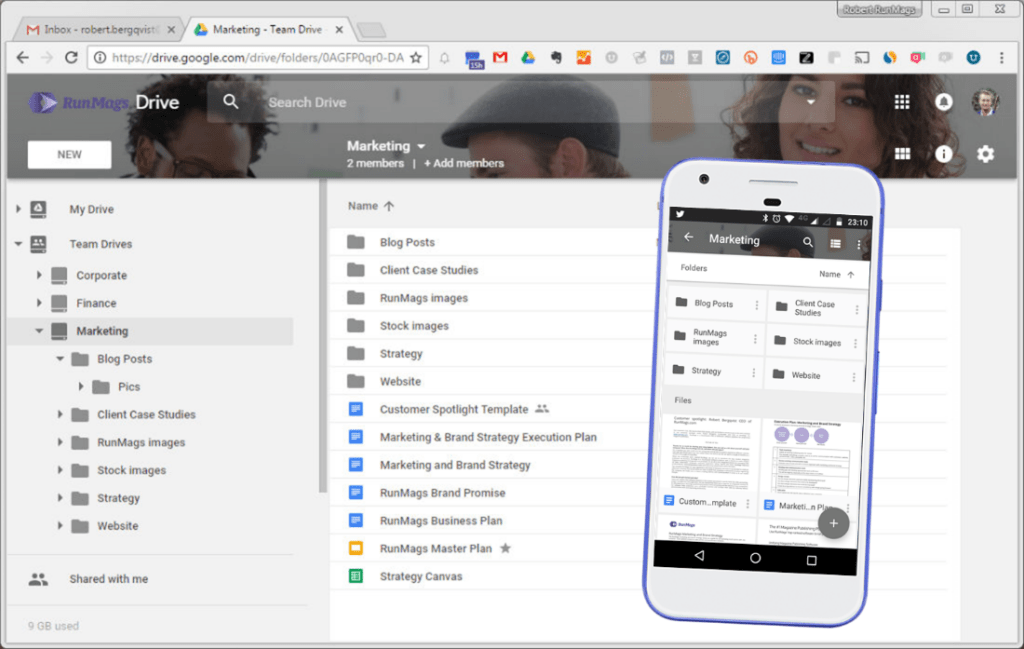 2017-04-24 in Learning
G Suite for Magazine Publishers
As we operate our RunMags in the cloud, we're frequently being asked if we recommend G Suite for Magazine Publishers. Our response is always YES! simply because publishers can really benefit from operating their business in the cloud. Not very different from software developing companies.
Since a few months, Google Apps for Work is now G Suite. And from a productivity standpoint, it's hotter than ever! This is much thanks to how the G Suite ecosystem allow you to build your business processes around your favorite apps. You employ software that was born in the cloud as opposed to adapted for the cloud, allowing for single sign on and switching between devices.
It's been some time since we last published some advice on G Suite here and during that time quite a nice number of new services have come about that you should take a look at. Read and learn about how we believe there's great fit with G Suite for Magazine Publishers!
Google Team Drives
Up until March 2017, we did not feel there was a compelling reason to subscribe to a larger G Suite package than the $5 per user and month starter level. However, when Google released Google Team Drives, we immediately upgraded to the $10 per user and month Business level. Our monthly price for G Suite doubled over night, but it's so worth it.
Sure, there's a value with unlimited storage. But the main thing for us was to (finally) get a joint company share drive for documents that are of the more permanent type. This includes strategy and business plans, marketing documents, process descriptions, etc. If you have the slightest ambition to build a sustainable corporation, Google Team Drives is a must for you.
With Google Team Drives, you continue working on your daily documents in Google Docs and Drive just like before. That's where you share access to specific folders and files with your teams during projects. But when you have finalized work products that need to be stored for access by the entire company or select departments, you move them to a separate Team Drive. Most companies should then set up permanent Team Drives for functions like Marketing, Sales and Finance. That's where shared documents can be maintained and updated as needed.
Slack
Having a 100% remote team, Slack is how we communicate and stay in the know. We view email as a great time thief that create busy work with little value and we've all felt the pressure from an inbox that has built up during vacations. With Slack, we can chat sporadically but also in a structured manner in channels. It's really easy to contact someone without interrupting, at the same time as it eliminates the need to send email.
The iOS and Android Apps for Slack are so convenient to use that we tend to use them even if we're at our desks. But since they are so easy to use and often provide context in the chat, they also become used when we're out running about. Imagine being able to link to and reference colleagues, clients, support cases, etc. in a chat on your phone.
An added benefit from using Slack is that you can employ hard working software robots and feeds from other systems. This helps you focus on things that matter and make educated decisions. At RunMags, our Slack provide information on our how our marketing efforts are working, if someone signs up for a free trial and if they seem to need help to get going. We also get automatic bug reports and notifications of successful and unsuccessful Stripe transactions.
Dialpad and UberConference
Dialpad Inc. provides two products; Dialpad is a software phone that can replace your desk phone and UberConference, which is a simple-to-use conferencing system. At RunMags we use them both on a daily basis.
Anyone that call our toll or toll free numbers are routed through the processes managed by Dialpad so that the right resource is reached quickly. As we take calls on our computers and headsets, we get great sound in both directions regardless of where on the planet we may be. I have personally been at very remote places while the person I was talking to believed I was in California. If we need to get moving, the call can seamlessly be transferred over to a mobile phone without any interruptions.
Every online demo that we do is done over UberConference. No download is necessary to get started and no PIN is needed to access the call. You can instantly start conferences and invite people, but you can just as easily schedule a call, integrated with the G Suite Calendar.
Marker
Marker is a simple screen capture tool with redline capabilities. Publishers can use the tool take a screenshot of anything, the magazine website or a print piece, then mark it up with the electronic pen, provide comments in text and submit it into a Slack channel directed to a colleague, Trello or any other tool that Marker integrates with.
Xero
Finally, Xero, the great-looking and easy-to-understand accounting system. When we started RunMags we didn't even consider using an accounting system that wasn't cloud based. Pretty much all modern accounting systems are cloud based these days. As 100% digital nomads we may not be your typical company, but as a reflection it may be worthwhile noting that we have never met our CPA in real life. After a short due diligence process where we evaluated various Xero certified CPA, we picked our guy and company. We've been very happy with that decision and fully trust them with our business.
Automatic bank feeds is a very important feature for us as we don't have to enter data manually from our bank statements. Xero automatically uploads the information, which means we can upload matching receipts to the entries and have our CPA reconcile everything quickly so that we know exactly where we stand financially. Other platforms like Quickbooks Online also offers this so it's really not a differentiator though. In the end it's the user friendly design that differentiates Xero from all other platforms.
What is Google G Suite?
Google G Suite is a suite of online tools built to help companies and their employees communicate and collaborate more effectively. For $5 per user and month, you get professional email, shared calendars, video meetings, documents, online storage and a bunch of other tools in one homogeneous platform. But what Google often forget to mention in their marketing of Google G Suite is that you can connect many of your other favorite services to your Google account. Once you're up and running with Google G Suite, you just head to the Google Chrome Webstore and connect the Apps you need – many of them for free.
Just get the trial started!
G Suite for Magazine Publishers resources:
Start for free
Get started with our free edition.

Setup your company. No risk, no commitment, no credit card, no spam.