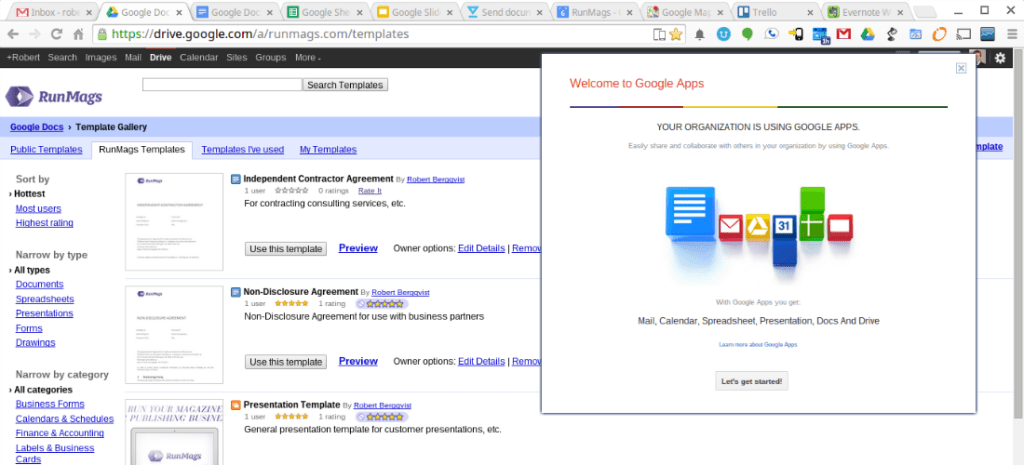 2014-10-04 in Learning
The magazine publisher's guide to Google Apps … Trello, Asana, HelloSign, Xero and more
You may or may not have heard it – but Google's platform, Google Apps, for email and documents, etc. has evolved to the point where it is one of the most competitive corporate platform these days. Gone are the days when Gmail was simply only the hippest email platform for your personal email. Here's the magazine publisher's guide to Google Apps for Work.
What is Google Apps for Work?
Google Apps for Work is a suite of online tools built to help companies and their employees communicate and collaborate more effectively. For $5 per user and month, you get professional email, shared calendars, video meetings, documents, online storage and a bunch of other tools in one homogeneous platform. But what Google often forget to mention in their marketing of Google Apps is that you can connect most, if not all, your other favorite services to your Google account. Once you're up and running with Google Apps, you just head to the Google Chrome Webstore and connect the Apps you need – many of them for free.
Sign a lot of contracts? For $12 per month you can start using electronic signatures with HelloSign. Print-sign-scan never again!
Do you plan, brainstorm, park ideas a lot? As a team? There's a free version, but for $4 per month, Trello saves the day. Trello makes is easy to quickly get ideas together and structure sense out of them. Every software company should use them for logging and solving bug issues.
If you need more project management type of tool, then sign up for Asana free of charge. Gantt chart functionality is available as well.
Are you fed up with the awful user interface in most accounting systems? Sign up with Xero, starting at $20 per month and roll out an accounting system that people actually can understand.
All high quality apps come with single sign-on so if you are signed in to Gmail, you can easily transition over to your documents templates in Drive, make the necessary edits and send off a document with HelloSign to request an electronic signature. It's a seamless process and allows large as well as small companies put tools in the hands of their employees that only really large enterprises could in the past. There's no programming necessary and you can even create your branded team site or intranet for sharing frequently accessed files, HR docs, media kits, branding guidelines, etc.
Employee acceptance for not getting Microsoft Office at work
This is the no. 1 fear factor that small as well as large companies seem to have a problem with. The thing is that Microsoft Word isn't that great for producing large and awesome-looking documents. Adobe FrameMaker is though. Microsoft PowerPoint is not the best tool for pitching ideas on either. BUT – the Microsoft Office programs are mostly good enough and they are established allover the world – which is why we're uneasy about moving away from them.
Start by designing branded templates for your organization to show people that they will look great. Once people see that it's possible to get the documents to look awesome in Google Apps, then the biggest barrier is overcome. Show them how easy it is to use the templates and styles in order to create properly branded documents – this is actually difficult in Microsoft Office as the regular user has ready access to way too many design tools, fonts, paragraph sizing, bevel, word art, etc. than they need. When you have employees convinced how easy that is, then show them how they can work together on the documents in real time and how easy it is to access the documents in Google Drive anywhere, anytime, on any device, and they will be sold! It's a platform built for business, designed for teams.
So maybe you say: "Well, the savings from not having to procure MS Office 365 for my 10 man team does not amount to that much". Yep, at $8 per user and year, MS Office 365 E1 (which in my view is the equivalent package to Google Apps for Work) would only cost you $960 per year, while Google Apps for Work would cost $600 per year for the entire team – i.e. Google Apps for Work is priced at about 60% of MS Office 365. The big savings come when you start furnishing Chromebooks and Chromeboxes to your team – $300 per laptop as opposed to $2,000+ for an Apple machine or a PC.
But it doesn't stop there. Now that you don't have email and files servers in your office and when only the design team (who need to install and run Adobe CS), consider the savings from not having to employ some IT guy to troubleshoot the networked machines. Simply share your internet with employees at work and they can also access the same files and information from home or when travelling. Keep a couple of Chromebooks on the shelf and get new employees productive in 5 minutes after you have set up their account in the Google Admin Console.
How to get started with Google Apps for Work
It's easy to get started with a basic roll-out process as listed below:
Start your free trial
Verify domain ownership
Add your users
Route mail to Google Apps
Train your users
Set up mobile devices
Import mail, calendars, and contacts
Set up your release process

Just get the trial started!
Google Apps for Work resources:
Free trial sign-up, courtesy of RunMags
Product home page
Pricing page
Start for free
Get started with our free edition.

Setup your company. No risk, no commitment, no credit card, no spam.