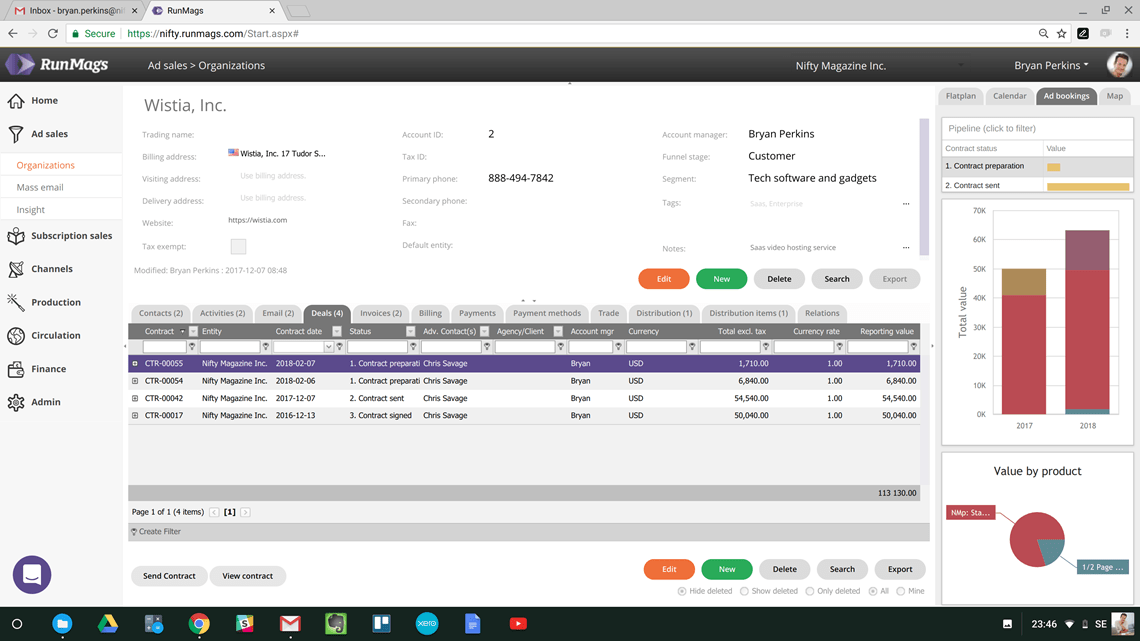 RunMags has full CRM functionality for managing advertiser and agency contacts, email, activities, proposals and contracts. As in most modern CRM systems, each organisation is represented by a record form with general company information along with associated tabs below containing information for contacts, activities, email, documents, contracts, invoices, payables and more.
CRM, sales and contract management for magazines
When most CRM systems stop supporting the business process at a closed order, RunMags gives you the tools to manage the contract through fulfillment, helping you ensure that ads gets placed as promised and that invoices are issued correctly.
All invoices are saved and readily available for future management of customer relations as well as comparative data analysis. Each customer contract agreement contains references not only to the inventory sold, but also to which magazine issues and timing that was included.
Manage both advertisers and subscribers
In addition to managing business-to-business relations for advertising, RunMags can help managing subscribers to the online and print publications. Issues that should be sent to advertisers can also be tracked to ensure timely delivery.
Depending on your strategy behind paid and free content, RunMags can be configured to maintain current address and contact information for distribution of print magazines, as well as managing what content subscribers have access to on your magazine website.
Effective coaching of sales reps
As RunMags is role based, sales staff can be assigned access to focus on advertisers and contract management. Team managers can run statistics and monitor performance in terms of quantity and quality of sales activities – to be leveraged for enhancing tactics and coaching sales reps to increase their effectiveness.
Each sales rep is presented with a sales dashboard displaying their results by week, effectively comparing actual results to sales goals set in cooperation with the team manager. The immediate feedback loop allows for effective coaching of talent that just started in their job as well as experienced sales reps.
Outsourced ad sales
With RunMags you can easily outsource your entire advertising sales operation. Simply assign roles to external sales reps and direct them to use the limited access they get in your RunMags installation. They only get access to the information you want them to have access to.