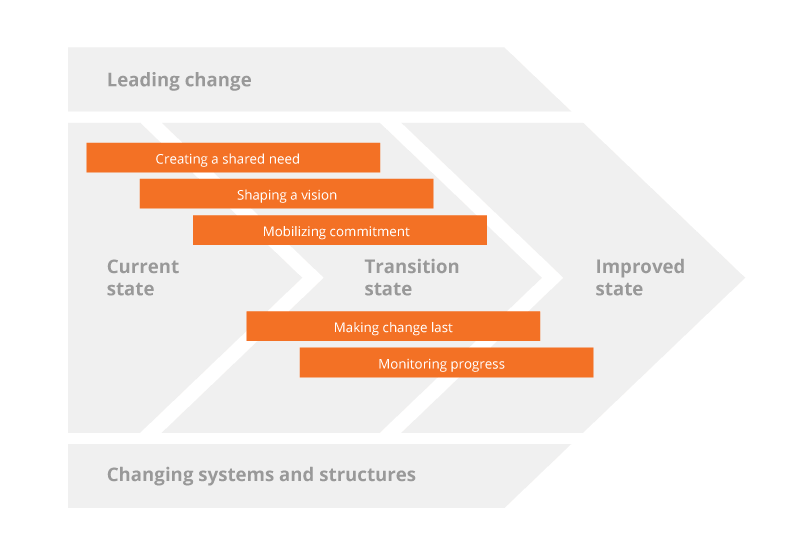 2016-01-11 in Learning
RunMags Change Management methodology and best practices
RunMags is all about cost effectiveness and our mission is to make magazine publishing manageable and profitable. That's why we have created this Do-It-Yourself Guide on how to manage change within your organization and thereby saving money that otherwise would be spent on consultants.
How to Manage Change: a Do-It-Yourself Guide
People typically find change difficult and various studies show that a large portion of CRM implementation projects fail, often due to poor user acceptance of the new platform.
In the corporate world, consulting companies charge hefty fees to help you manage change: they sell workshops, offer project management services and support for the leadership team.
Background
We have developed a RunMags specific Change Management methodology and best practices to support our customers in implementing RunMags in their organization. You can access it on our support site. As RunMags is really a CRM, part fulfillment and part Accounting system, the method is certainly focused on managing the challenges concerning implementing an IT platform, changing business processes, and motivating staff. But the foundation is generic in nature and can be used for virtually any change project.
Use our Do-It-Yourself Guide to avoid the pitfalls often associated with an organizational change, the implementation of a CRM platform or the roll out of your new sales rep bonus scheme.
Pragmatic approach to Change Management
As organization structure, culture and history varies from publisher to publisher, managing the change process when introducing a new company-wide software tool is bespoke by default. In a hierarchical organization, the change can be dictated in a very different manner than in an organization with a more informal management culture. But that doesn't mean that it will last. It might just become the new flavor of the month that the staff adapts to, knowing that in six months, there will be a new thing.
The RunMags Change Management methodology is created to provide a framework that can be used in a very pragmatic fashion, regardless of which organization we're implementing our software in. Key is that management is aware of the challenges and actively communicates to support the change throughout the various stages.
We must certainly manage the technical aspects of rolling out the software, but the softer side of the change is equally important – and this is what most organizations miss. To be successful, you absolutely HAVE to understand the personal drivers of your staff and align them with your change management project.
Access the Do-It-Yourself Guide and article on our support site here.
Start for free
Get started with our free edition.

Setup your company. No risk, no commitment, no credit card, no spam.