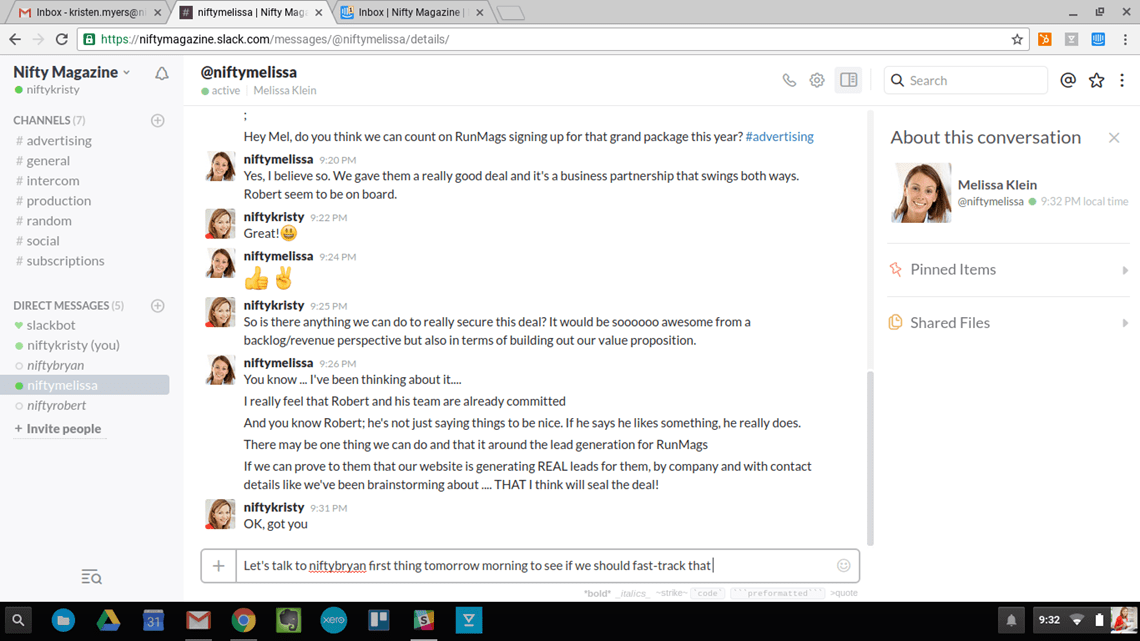 2016-09-02 in Learning
How Slack and Intercom can make magazine publishers more productive
RunMags is all about effective team collaboration, you know that by now. But with this post on Slack and Intercom, we'd like to tease your imagination on how you could take your productivity to another level. Let us know if you like our thoughts and we'll include them in the RunMags development pipeline.
Tools being used by agile startup companies
In the internet startup community, Slack and Intercom are a couple of platforms that many of the companies use to drive productivity, innovation and sales. They come with Freemium pricing models so you can start small for free and scale your use for a relatively small monthly fee.
What is Slack?
Slack is a messaging app and collaboration tool for teams. It brings all your team's communication and files in one place, where they're instantly searchable and available wherever you go – on your laptop or in the mobile app. In addition, together with Slackbot and other internet software robots ready to serve, you can make your life simpler, more pleasant, and more productive.
What is Intercom?
Intercom shows you who is reading your website / magazine and makes it easy to personally communicate with them through targeted, behavior-driven email and web messages. Talk directly to readers to turn them into subscribers or service potential advertisers with the information they need to see at the right time. All Intercom products come with the free Intercom platform which lets you see who your readers are, and what they do on your website.
Converting subscribers and advertisers
Software startup companies of today are incredibly crafty when it comes to converting leads into paying customers. Sales funnels are analyzed in detail and website visitors are served with value-adding tips and advice along their buyer journey. Messages are automated to start with and upon the engagement a human being can jump into the conversation to provide service.
Magazine publishers should definitely study a few of these companies to learn what can be applied to selling subscriptions and advertising. The price level of software subscription offerings are often very similar to those of magazine subscriptions so there shouldn't really be a reason why publishers can't adopt the model.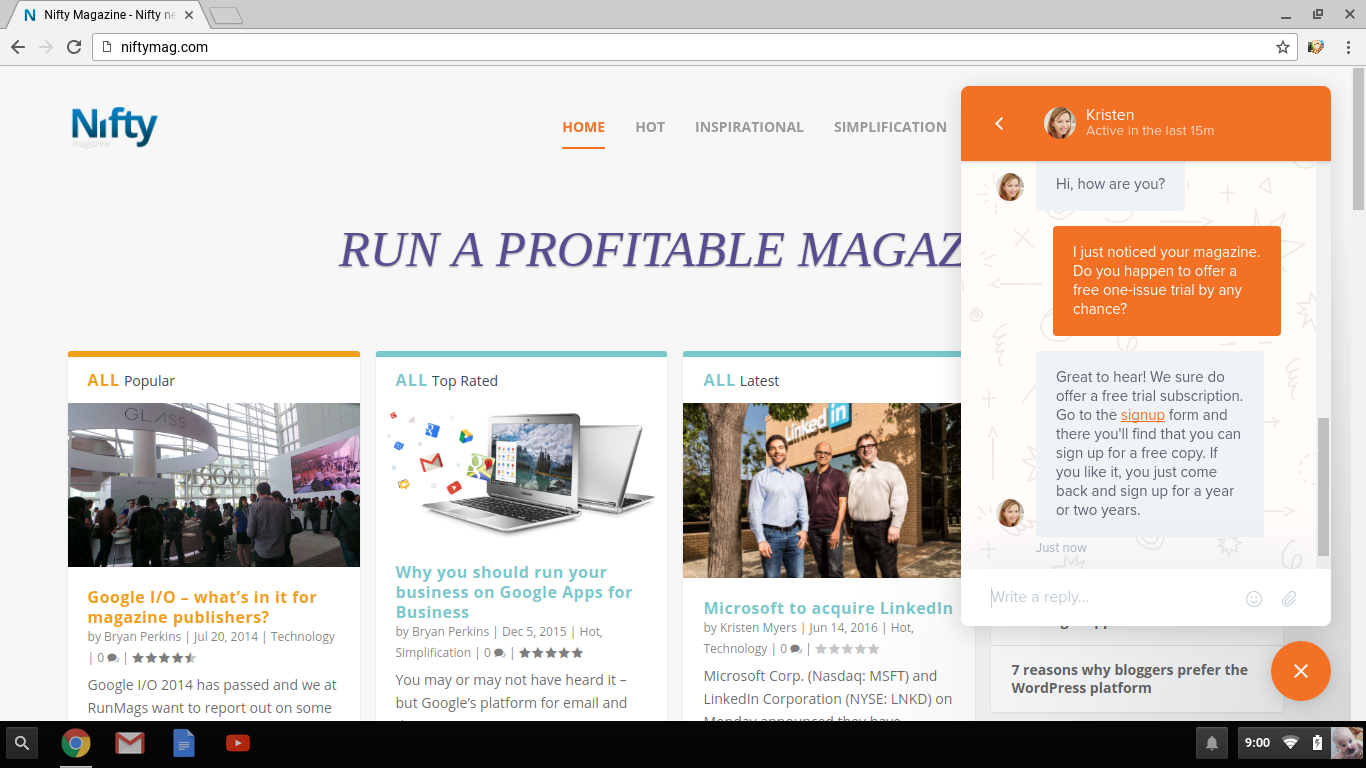 In the example above, a potential subscriber engages with Nifty Magazine to ask about a free trial. Kristen responds and provides a link to where Otis can get a free copy. In the process, Otis will provide his email address so that even if he doesn't sign up, Nifty Magazine will have the email address for future messaging. At the RunMags subscription page, Otis will definitely provide his email address in order to get the free copy and at that point his home address along with all other details he's providing will go into RunMags.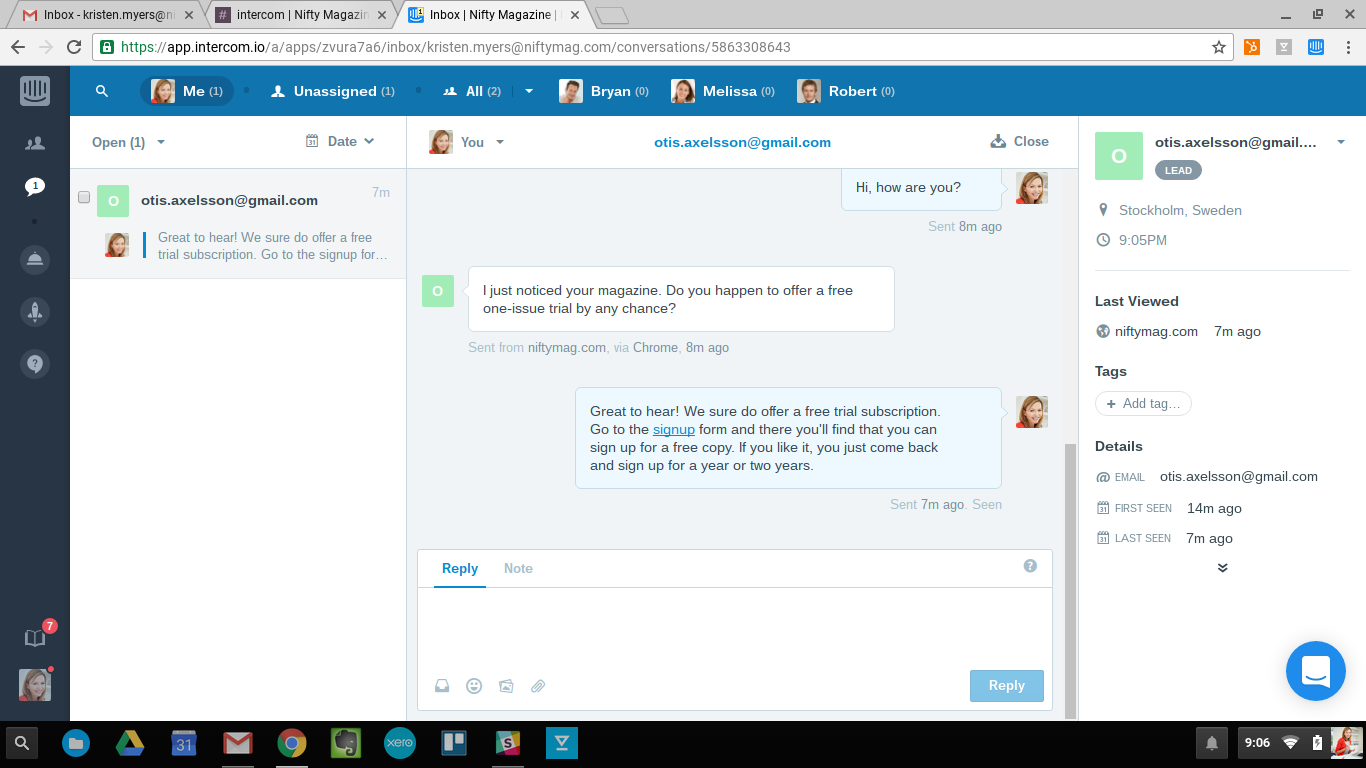 Above is the Intercom conversation interface that Kristen is using and she can also use Intercom's mobile app if she's on the move. On your website you can have targeted messages from your specific employee's areas of expertise. For users investigating your advertising offering, craft messages from the sales reps and present them on the page(s) that explain your value proposition.
Integrate your favorite apps and bots into Slack
Slack has become so popular that many software vendors develop integration apps and bots for Slack, rather than building similar functionality in their own applications. The simple but yet capable interface make it possible to feed updates and messages to employees who can benefit from being in the know.
The screenshot above displays the conversation between Otis and Kristen, the way that other employees at Nifty Magazine would see it if they subscribe to the Intercom channel.
In a similar fashion we can feed in payments from Stripe, website statistics from SimilarWeb, task assignments and completions from Trello or Asana, upcoming meetings in your calendar and more.
So where does RunMags fit into this?
The development of new RunMags features are driven by the needs of our customers. Send us an email with your thoughts around how RunMags would integrate with Slack to help you get more productive. Some of the ideas we've been playing around with is that RunMags can push messages on calls being made, email conversations as well as deals created, lost, and won. There could be notifications when advertisers pay their invoices and when subscribers sign up or renew their subscriptions. You may get notified about production deadlines coming up and when clients upload their artwork for your approval.
Also, a RunMags bot for Slack could send a morning message with your daily to-do list and clients to call, even as a printable PDF. You could ask it questions (in the Slack app) like "Has anyone talked with ACME?" so you wouldn't have to bug your team or go into RunMags. The RunMags bot might reply "Steve called Peter Holmes at ACME last Tuesday and a $5,750 deal was closed the same day".
Try out Slack and let us know your thoughts!
Start for free
Get started with our free edition.

Setup your company. No risk, no commitment, no credit card, no spam.